Here you find our Christmas menu:
25 & 26 th of December, between 11.00 and 14.00 o' clock. Location Prins Hendrikstraat 69. Eat in or take out!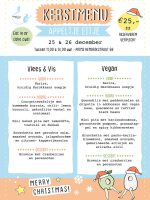 For reservations, check out our contact page. We also offer take-away.
The main reason why we ever started Appeltje Eitje is our love for good food. Food that not only tastes great, but also provides you with all the good stuff your body needs. We have something on the menu for everyone, whether you're vega(n) or a true carnivore. You're welcome at Appeltje Eitje.